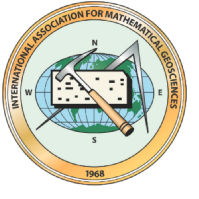 The IAMG Student Chapter from University of Lorraine, France, is an active student chapter of the International Association for Mathematical Geosciences (IAMG). The IAMG is a scientific association at the frontier of geosciences, mathematics and computer sciences promoting international cooperation in the application and use of mathematics in geological research and technology.
Our Student Chapter, which has existed for more than 20 years, is historically related to the numerical geology research team from Nancy (known as the RING team) and the Nancy School of Geology. It includes MSc and PhD students with backgrounds in geology, reservoir engineering, geophysics and computer sciences who work on the topics of structural and stratigraphic modeling, physical process simulations, uncertainty characterization, meshing strategies, model complexity and scale management, data interpretation and integration, etc. We are currently looking forward to recruit new members with alternative backgrounds to diversify our spectrum of competences and develop new student collaborations.
Student Chapter members

2021 Board:

Student members:

| | | |
| --- | --- | --- |
| Name | Year | Research topic |
| Paul Baville | PhD | Complexe sedimentary basin models uncertainties assessment by simulating stochastically well correlations from log and core data using the Dynamic Time Warping algorithm |
| Capucine Legentil | PhD | Local geomodel updating: geometry and topology |
| Zoé Renat | PhD | Microseisms characterization by time reversal |
| Enrico Scarpa | PhD | Hydrodynamic connectivity of channelized sedimentary deposits: analysis and reproduction |
| Fabrice Taty | PhD | Graph-based stochastic seismic structural interpretation of geological faults |

Scientific production

Articles published in IAMG journals :

As members of the IAMG Student Chapter, we perform research at the interface between geosciences, mathematics and computer sciences. IAMG journals offer us a great opportunity to publish our work in high-quality interdisciplinary journals close to our research interests. You can find here the articles that were published by Student Chapter members in IAMG journals over the last years:

Participations to IAMG Annual Conferences :

The IAMG also provides us the opportunity to travel and many members of the Student Chapter recently presented their work at the IAMG annual conference:

Activities

As an IAMG student chapter, we aim at developing the joint application of mathematics and computer sciences in the domains of geosciences, and especially to students. We organize various activities, both regular and occasional ones, to promote our research work and IAMG action.

Lectures

Our principal activity consists in organizing weekly lectures that are given either by Student Chapter members, permanent researchers from the RING team, or visiting colleagues. These lectures are the occasion to present and share our research advances, but also to get feedbacks and advice from colleagues on our work, and new insights on other research domains. The list of both past and incoming lectures can be found here.