Enrico Scarpa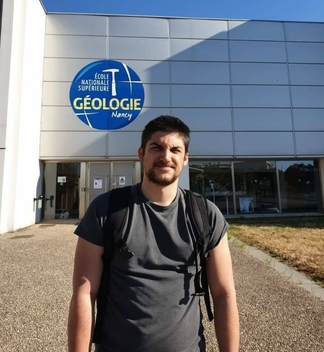 WELCOME!
I am Enrico and I have a background in geological sciences and geophysics, from fieldwork activities to relevant numerical modeling. I am a quick learner and I worked and studied in Scotland, Italy, Switzerland, and France.
I hold a Bsc and an Msc degree in Geoscience from the Università degli Studi di Milano. I gained a scholarship during my Msc studies in 2019 to join the Stochastic Hydrogeology and Geostatistics group at the CHYN to characterize karst structures based on partial information.
I am currently a PhD student in Geoscience at the GeoRessources Lab. My research is part of the stochastic sedimentary and diagenetic objects description project under the supervision of Dr. Pauline Collon and Prof. Guillaume Caumon.
CV : Download Resume
About the PhD
My interests lie in using geostatistics and stochastic modeling tools to preserve geological observations of channelized sedimentary deposits in reservoir flow simulations. I am now focusing on fluvial and deep-water systems and specifically on synthetic study cases.

I mainly assess the impact of the various architectural structures of the fluvial systems on the underground fluid circulations. These structures are resulting from the channel migrations due to the interplay of erosion and sedimentation processes. To model it, I define fluvial systems as a set of parametric surfaces and compare the different geometrical architectures with relevant petrophysical properties.
Research Topics
Geostatistics and reservoir simulation
Meshing complex objects
Characterization of channelized systems
Contact Information
| | |
| --- | --- |
| E-Mail : | This email address is being protected from spambots. You need JavaScript enabled to view it. |
| Cell: | +33 7 67 67 61 63 |
| ENSG office number: | G209 |
Publications
2022
in: 2022 {RING} {Meeting}, pages 15, ASGA
2021
in: 2021 RING Meeting, ASGA
2020